We in the Pacific Northwest enjoy a climate that allows a wide range of showy plants, including a large variety of Native Plants, that thrive not just in the spring and summer, but all 4 seasons. This allows Our's to be some of the most colorful, textural, and diverse garden beds boasting year around appeal!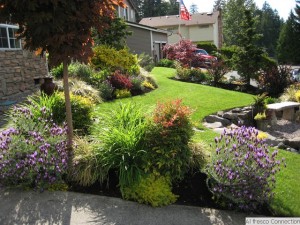 That said, a successful garden isn't just a collection of plants that happen to appeal to the whim of the homeowner. Lack of planning and random emotional purchases can lead to a modge podge of plants that don't thrive in their light or climate, and don't visually fit with the elements around them. So that plant you "had to have" is actually a huge eye sore in your garden.
This is where The Al fresco Connection's 17 years of Horticulture Design in The Pacific Northwest is so beneficial to the success of your Garden. It is entirely possible to have amazing color, texture, form, and year around interest that is actually low maintenance as well. These amazing planting beds will be planned carefully to amaze and nuture the garden owner season after season.