More and more, Homeowners in the Pacific Northwest are finding ways to spend their precious free time in their own outdoor spaces.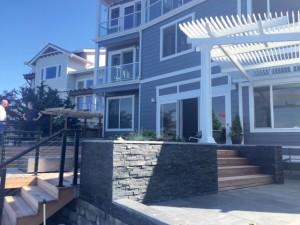 "Hardscape" elements are the architectural "bones" to the garden, and pertain to every element that isn't the plant material. The hardscape portion of the design should always be planned first, and the planting protion planned to compliment the hardscape.
These elements can be small and basic, like paths and lawn shape, or complex, like decks, patios, pergolas, pavilions, water features, walls, fire pits, even swimming pools and outdoor kitchens, depending on your budget.
In any case, The Al fresco Connection will be able to plan your hardscape elements to cohesively flow throughout your landscape in way that is functional and aesthetically exciting!